Saint Therese of Lisieux, also known as Therese of the Child Jesus; the Little Flower; the Little Flower of Jesus, was born in Alcon, Normandy, France on 2 January 1873. Born to a middle-class French family.
Saint Therese of Lisieux died at 7pm Thursday on 30 September 1897 at Lisieux, France of tuberculois. She was canonized on 17 May 1925 by Pope Pius XI and declared a Doctor of the Church in 1997 by Pope John Paul II.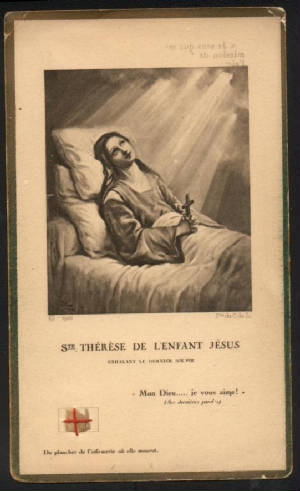 The Relic is a Piece of the Wooden Floor of the Infirmery where she died.
"For me, prayer is a surge of the heart; it is a simple look turned toward heaven, it is a cry of recognition and of love, embracing both trial and joy."
- Saint Therese of Lisieux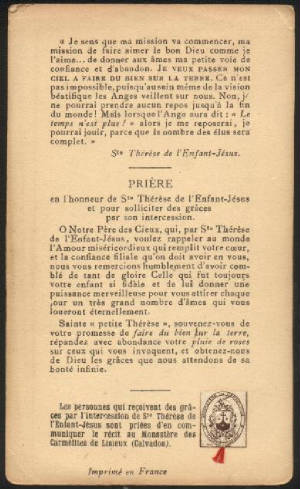 Prayer to Saint Theresa of the Child Jesus
Dear Little Flower of Lisieux, how wonderful was the short life you led. Though cloistered, you went far and wide through fervent prayers and great sufferings. You obtained from God untold helps and graces for his evangelists. Help all missionaries in their work and teach all of us to spread Christianity in our own neighborhoods and family circles. Amen.
Invocation to Saint Theresa
O Little Flower of Jesus, ever consoling troubled souls with heavenly graces, in your unfailing intercession I place my trust. From the Heart of Our Blessed Savior petition these blessing of which I stand in greatest need (mention here). Shower upon me your promised roses of virtue and grace, dear Saint Therese, so that swiftly advancing in sanctity and in perfect love of neighbor, I may someday receive the crown of eternal life. Amen.
Third Class Relic of Saint Therese of Lisieux