Pope John Paul II
Pope John Paul II was born Karol Józef Wojtyła in Wadowice, Poland on 18 May 1920. He reigned as Pope of the Catholic Church and Sovereign of the State of the Vatican from 16 October 1978, until his death on 2 April 2005.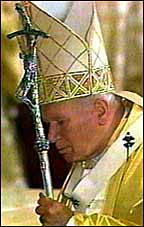 His early reign was marked by his opposition to communism, and he is often credited as one of the forces which contributed to its collapse in Eastern Europe. In the later part of his pontificate, he was notable for speaking against war, fascism, dictatorship, materialism, abortion, contraception, relativism, unrestrained capitalism, and what he deemed the "culture of death".
The pope has often explained himself with dense, closely reasoned and deeply philosophical encyclicals. His encyclicals, letters and other writings fill more than 150 volumes.
"This is not a pope who looks at the public opinion polls," says Father Thomas Reese, editor of America magazine and author of the book "Inside the Vatican." "He says what he thinks is right and wrong from conviction. And that's why people admire him. He's a man of integrity and prayer, even if they don't agree with him."
On 9 May 2005, Pope Benedict XVI, John Paul II's successor, waived the five year waiting period for a cause for beatification to be opened.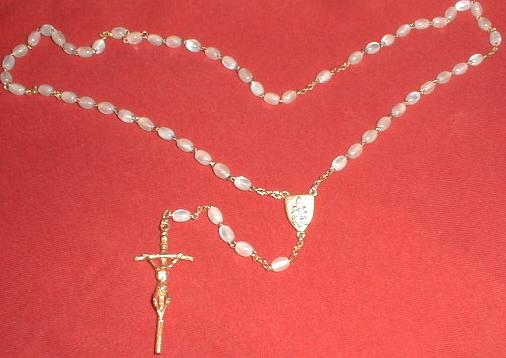 This Relic is a Papal Holy Rosary
In 1984, John Paul became the first Pope to visit Puerto Rico. During this visit he made a gift of the above Holy Rosary to Bishop Ricardo Antonio Surińach Carreras of Ponce. The Bishop of Ponce left this Papal Gift that he himself had used for years, in 2005 to the Ramos Family of Ponce. We give our praryerful thanks to the Ramos Family for the donation of this Holy Rosary to this hermitage in 2006.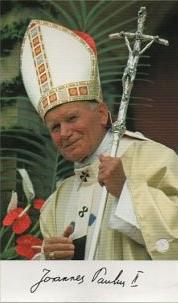 Fragment of clothing of PP John Paul II.
We give a prayerful thanks to Monsignor Slawomir Oder, the Postulator for the Cause of Beatification and Canonization of the Servant of God John Paul II, for their generous gift and trust of the above second-class relic together with the notice of validation of its authenticity signed by the Monsignor himself in Rome on 21 January 2009.