The Cloister Monks

[1] The founding Fathers of our type of monastic life were followers of a star from the East, the example, namely, of those early Eastern monks, who, with the memory of the Blood shed by the Lord not long before still burning within them, thronged to the deserts to lead lives of solitude and poverty of spirit. Accordingly, the cloister monks who seek the same goal must do as they did; they must retire to deserts remote from men and to cells removed from the noise of the world, and even of the monastery itself; and they must hold themselves, in a particular way, alien from all worldly news.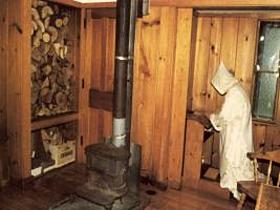 [2] The monk, who continues faithfully in his cell and lets himself be molded by it, will gradually find that his whole life tends to become one continual prayer. But he cannot attain to this repose except at the cost of stern battle; both by living austerely in fidelity to the law of the cross, and willingly accepting the tribulations by which God will try him as gold in the furnace. In this way, having been cleansed in the night of patience, and having been consoled and sustained by assiduous meditation of the Scriptures, and having been led by the Holy Spirit into the depths of his own soul, he is now ready, not only to serve God, but even to cleave to him in love.
[3] A certain amount of manual work should also be done, not merely for an hour's relaxation, but chiefly because this submission of the body to the common lot of mankind helps to conserve and nourish joy in spiritual things. Each monk, therefore, is given all the tools that he needs, to avoid his having to leave cell; since this is in no way permitted, except when the community is meeting in church or cloister, or on occasions laid down by rule. Nevertheless, in the measure that the way of life we have embraced is more austere, we are the more strictly bound to observe poverty in all we use; for we must imitate the poverty of Christ if we wish to share in his abundance.
[4] Being united by love for the Lord, by prayer and by zeal for solitude, let the fathers show themselves to be true disciples of Christ, not merely in name but in deed; let them be zealous for mutual love, living in harmony, forbearing one another, and, if one has a complaint against another, forgiving each other, so that, together, they may with one voice glorify God.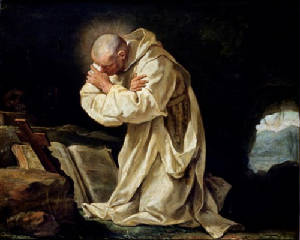 [5] Let the fathers keep in mind the close union in Christ that they have with the brothers, and remember that it is thanks to them that they are enabled to offer pure prayer to the Lord in the peace and solitude of their cells; let them remember, too, that their priesthood is for the service of the Church and, in particular, of those members close to them, namely the brothers in their community. Outdoing one another in showing honor let fathers and brothers live in love, which is the bond of perfection, and the foundation as well as the summit of any life dedicated to God.
[6] To all his sons, both fathers and brothers, it is the Prior's task to mirror the love of our heavenly Father, uniting them in Christ so as to form one family, and so that each of our Houses may really be what Guigues terms a Carthusian church.
[7] All this finds its source and support in the celebration of the Eucharistic Sacrifice, which is the efficacious sign of unity. It is also the center and high point of our life, as well as the spiritual food for our exodus in solitude, by which through Christ we return to the Father. Throughout the entire liturgical cycle, Christ prays, both for us as our Priest, and in us as our Head; hence it is that we may hear our voices in him and his voice in us.
The night Office is, in accordance with our ancient practice, fairly long, though never beyond the limits of discretion; in this way, the psalmody nourishes our interior devotion and enables us to give ourselves in addition, without fatigue or loss of interest, to secret prayer of the heart.
[8] It is an old custom of ours — in which we recognize a wonderful gift of God's loving kindness — that every cloister monk is called to the sacred ministry of the altar. In this we see the harmony, to which Paul VI bore witness, that exists between the sacerdotal and monastic consecration; for, after the example of Christ, the monk likewise becomes both a priest and a sacrifice whose fragrance is pleasing to God; and through this association in the Lord's sacrifice, he shares in the unsearchable riches of his Heart.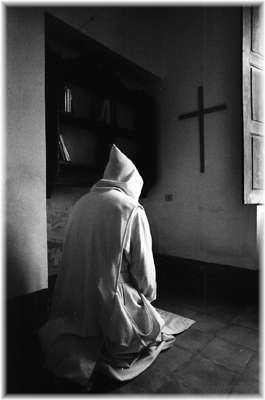 [9] Since our Order is totally dedicated to contemplation, it is our duty to maintain strictly our separation from the world; hence, we are excepted from all pastoral ministry — no matter how urgent the need for active apostolate is — so that we may fulfill our special role in the Mystical Body of Christ. Let Martha have her active ministry, very praiseworthy indeed, yet not without solicitude and agitation: nevertheless, let her bear with her sister, as she follows in the steps of Christ, in stillness knows that he is God, purifies her spirit, prays in the depths of her soul, seeks to hear what God may speak within her; and thus, tastes and sees — in the slender measure possible, though but faintly in a dark mirror — how good the Lord is; and also pours forth prayer both for Martha herself and for all who, like her, labor actively in the service of the Lord. In this Mary has not only a most just judge but also a very faithful advocate — the Lord himself — who deigned not alone to defend but even to praise her way of life, saying, "Mary has chosen the best part, which shall not be taken from her;" with these words he excused her from involving herself in the solicitude and agitation of Martha, however pious and excellent they might be.
Carthusian Statutes
Chapter 4 - The Cloister Monks
Solitary life and Community Life