The Carthusian, by virtue of this call to a solitary life, is separated from the world and to a large extent from his brothers within the monastery. Still, he does not live for himself alone. On the contrary, he embraces this life for love of God and for His glory and in accordance with His will, but also, more than for himself, for the world which he has left and yet whose well-being he desires intensely. "In embracing a hidden life," the Carthusian Statutes read, "we do not abandon the great family of our fellow-men....Apart from all" (citing Evagrius Ponticus), "to all we are united, so that it is in the name of all that we stand before the living God." The solitary life serves the Church, these Statutes read, as witness, and as participating in Christ's prayer and sacrifice for the salvation of souls.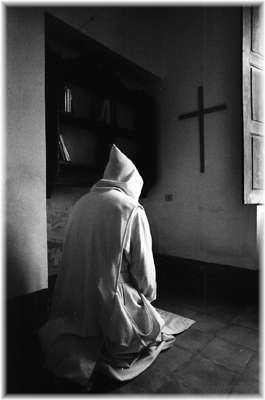 "Making Him who is, the exclusive center of our lives through our profession, we testify to a world, excessively absorbed by earthly things, that there is no God but Him. Our life shows that something of the joys of heaven is present already here below; it prefigures our risen state and anticipates in a way the final renewal of the world.
"By penance, moreover, we have our part in the saving work of Christ, who redeemed the human race from the oppressive bondage of sin, above all by pouring forth prayer to the Father, and by offering himself to Him in sacrifice ... In this way, we strive to follow Christ in this, the inmost heart of his saving work."
Speaking to Carthusians, the Holy Father said: "Your specific ... vocation does not put you on the margin of the Church. Rather it places you in its very heart. Your presence is a constant call to prayer. I too entrust to you my apostolic ministry as Pastor of the universal Church. With your life give witness to your love for God. The world is watching you and, perhaps unknowingly, expects a great deal from your contemplative life." (op. cit.)
Charterhouse of the Transfiguration
Vocational Booklet - 1987
The Carthusian and the World